Things Not To Do On A Roller Coaster
Meet Fred.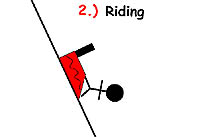 I love this site for its way kewl roller coaster films, many of which let you "ride" a preview of the attraction (so you can check it out before you go on the ride for real; or, re-live the memories of favorite rides). It's been a roller coaster travelogue that has introduced me to rides and parks that have consequently been added to my I Gotta Go There list. Plus it's a great way to experience the fun and flavor of parks I'll probably never make it to, jet setter that I ain't.

My kids love the site too, but for them, the biggest attraction is...Fred.